Quite a while ago I have been asked on Twitter what 333 means to me. The problem is, that this on its own is the kind of question that spawns a myriad of further questions. Mainly: how would a number "mean" anything at all? Can it?
This has been sitting in my drafts for quite a while now and what I'm posting here is actually only half of what I have written. The other part is an attempt at making the ominous implications in this post a bit more explicit. The thing is: the more I wrote and read, the more I realized just how much of a pseud I am, and I know I claimed this blog to be a place for me to be wrong too, but I still want to save myself from some embarrassment. I haven't given up on that part (yet?), it will definitely take me some work to make it worth your time though.
Not keeping it simple, sorry
I reject the idea of numbers symbolizing archetypal categories (see Qabbala 101 part III.: "Against Numerology"). That means I don't see any given number as the representation of something above it or of some true underlying meaning, because numbers precede those concepts in any and every direction. Using number as a symbol does not enrich it, but reduce it. Instead of finding out what holy truths can be derived with god-given reason, erroneously seeing numbers as the consequence of these truths, numogrammatics is about finding out what numbers do to us (from the Outside etc. etc. you know the drill). But of course, to accomplish that task, our qabbalism cannot simply be about number in itself and dismiss all symbols, because that would "just" be mathematics and for finding out what numbers do to us there must be something of "us" in the methodology. An inherently productive, positive senselessness of qabbala lies within the gematria, a function mapping from words (signifiers (meaning-havers)) to numbers. This jumbling is what AQ is all about.
However, this post is about what we do when we are given a number, what the numbers make us do, what they make us think (putting it this way now, instead of "what they mean"). Now when someone asks me what 333 means to me (read: does to me), there is already a subjectivity assumed, but I do believe that I was not just asked as Utz, but as a numogrammaticist. Our model for this is, of course, the numogram. Using the numogram is what common ground we can have in this discussion, and it prides itself on being a model that is completely determined by only two givens: additive arithmetic (including its partner subtraction) and the decimal system of writing numbers. The first assumption's validity is obvious by being deeply engrained in reality itself. The second assumption is based on the fact that decimality is so deeply engrained in us, and "emerged so triumphantly out of the soup of contingency" as I put it in my previous post. Again, we see that the number in itself is being combined with our anthropomorphic view on things, to facilitate the system's function as a socket to plug ourselves into the numo-swarmachinic rumblings.
An example
Having studied the pandemonium it seems entirely clear what the number 54 does. We know that this is Katak/Khattak/Nal/Kao…, and we know she is the angry one of of three syzygetic lemurs in the time circuit. Her matrix entry says she is the "Desolator" and "Syzygetic Chronodemon of Cataclysmic Convergence", we see her syzygetic rite described with following words: "Tail-chasing, rabid animals (nature red in tooth and claw)" in the pandemonium and "Coiled Fervour", "Between burning excitement and arid tension" in the Book of Paths. But that sort of begs the question doesn't it? Why even is it that way? You can rightfully call me a coward for choosing Kao as an example because it gives me the chance to appeal to (the authority of?) another text:
Katak's net-span, 5::4, bridges the smallest interval and places her in the centre of the Barker Spiral. She is described variously as 'tightly bound, coiled or knotted', 'wound up' or 'compacted'. The Cthulhu Club write of a 'Katak effect,' when the smallest difference (5::4) has the greatest impact.

Great Lemurs – No.1: Katak (Posted by Nick Land on August 20, 2004 03:33 AM)
This idea is illustrated very well by the way sound works: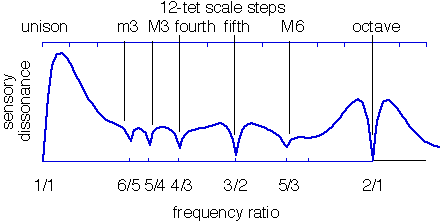 If we have two pitched sounds, they can be more or less dissonant, have more or less tension or friction, be in tune with each other or out of tune. The graph above (source) shows the amount of that dissonance over the ratio of the frequencies of those pitches. As easy as it is to get distracted by all the other information, the point here is that dissonance is the highest when the difference between the pitches is particularly small. Two instruments playing together but not being quite in tune is katakoid through and through, the feelings that can be caused by that are the feelings that Katak causes etc. Unless deaf to outside signals of any kind, what this tension leads to is the musicians tuning their instruments. What happens now is them reaching the musical interval called unison, the "prime" (DE) or "prima" (IT), i.e. one and the same note: convergence. This also happens in the numogram with the sink current, as 5-4=1, we are led to Murmur. (BTW: a numogrammatic analysis of music theory is long overdue. I will have to write on that…)
It is in such a way that numogrammaticists want to reason about each lemur and numbers in general. Every word to describe them should be caused by information that can be found in the numogram, or number in itself. And when talking about 2, for example, it does not technically "represent" pairing, dualism and schism but instead conceptualizing the ideas of pairing, dualism and schism presupposes 2, making 2 their quasi-cause. In the same way, Katak does not archetypally represent the kind of processes described above, they instead are a katakoid becoming, if not a becoming-Katak.
The Discourse (there's actually not that much of a discourse)
This post could be seen as very pedantic. And it's true, maybe I'm sort of splitting hairs here, or maybe not idk. In our parts the "numerology question" is still being discussed. One side says Land (or anyone else with equal or similar positions on this issue) can talk about not doing numerology all they want, at the end of the day they still do it. The other sees the rift between the Landian conception and numerology unbridgeable. I myself do see said rift as very important to be aware of, which is why I wrote this post, but can not deny that numogrammatics does at least look a lot like numerology. The intermingle and friction across this rift is what I am interested in and if the next part of this is ever going to come out it will be about this.
I will not get mad about people saying numbers represent or mean something, first of all because it's annoying, but also because I think it can be useful even if not technically correct. Perhaps the language of significance can be misused for our anti-metaphorical ends, the same way the schizo can use the Oedipus for their depraved ends and wipe him of their slippery surface at will.